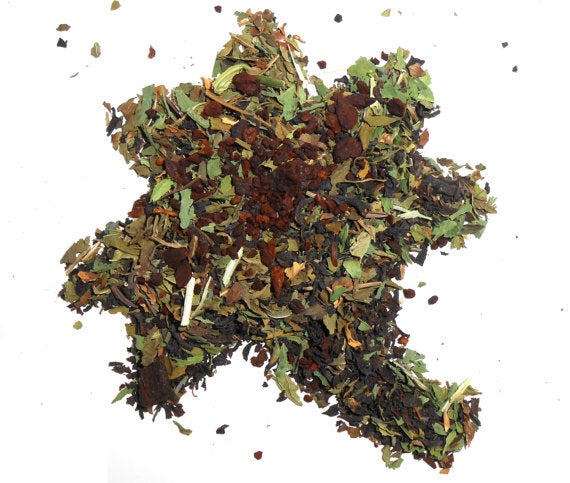 SHAMROCK SHIMMY ™ Artisan Herbal Tea, Organic
---
Shamrock Shimmy Herbal Tea
- A product of Mortar and Petal by CynCraft
-Organic, Kosher, Caffeine-Free.
You will receive your selected amount of loose, organic SHAMROCK SHIMMY Herbal tea, freshly sealed in a zip-lock bag, embellished with a bow and a tag.

Cup in the mornin' to ya! You don't have to be Irish to appreciate this rich and vibrant tea. Roasted chicory brews a bold and sassy, caffeine-free root tea, and when shaded by cool clover and mint leaves, this blend seems to transport your senses to earthy, green gardens and misty mornings.

Utterly decadent with a bit o' cream and honey.

-Taste: Rich, with a breath of fresh mint
-Aroma: Deep roast, with a lingering cool mint
-Brewed Color: dark amber
-Instructions: one rounded teaspoon per 6-8 ounces of water, brewed for 3-4 minutes
-Servings per ounce: 18-22 six-ounce cups 

This tea can be steeped twice, for double the value.
Thanks for stopping by. Sipping tea soothes the soul.
---
Share this Product
---
More from this collection