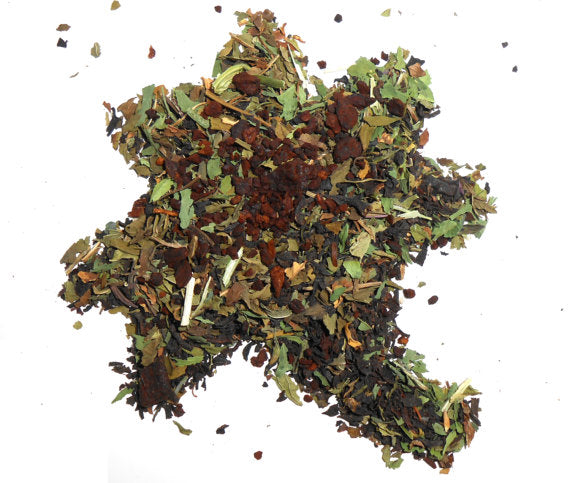 SHAMROCK SHENANIGANS ™ Artisan Tea Blend
---
Shamrock Shenanigans Tea
- A product of Mortar and Petal by CynCraft
-Organic, Kosher, Caffeinated.
You will receive your selected amount of loose, organic SHAMROCK SHENANIGANS tea, freshly sealed in a zip-lock bag and embellished with a bow and a tag.

Cup in the mornin' to ya! You don't have to be Irish to appreciate this adventuresome tea. Irish Breakfast black tea and roasted chicory root create a bold and rich tea base, and when mint, cinnamon, and cacao shells and nibs are added, this blend seems to inspire spontaneous jigs and quests for pots of gold.

Utterly decadent with a bit o' cream and honey.

-Taste/Aroma: Rich and deep roast, with a whiff of mint, chocolate, and spice
-Brewed Color: dark amber
-Instructions: one rounded teaspoon per 6-8 ounces of water, brewed for 3-4 minutes
-Servings per ounce: 18-22 six-ounce cups 

This tea can be steeped twice, for double the value.
Thanks for stopping by. Sipping tea soothes the soul.
---
Share this Product
---
More from this collection