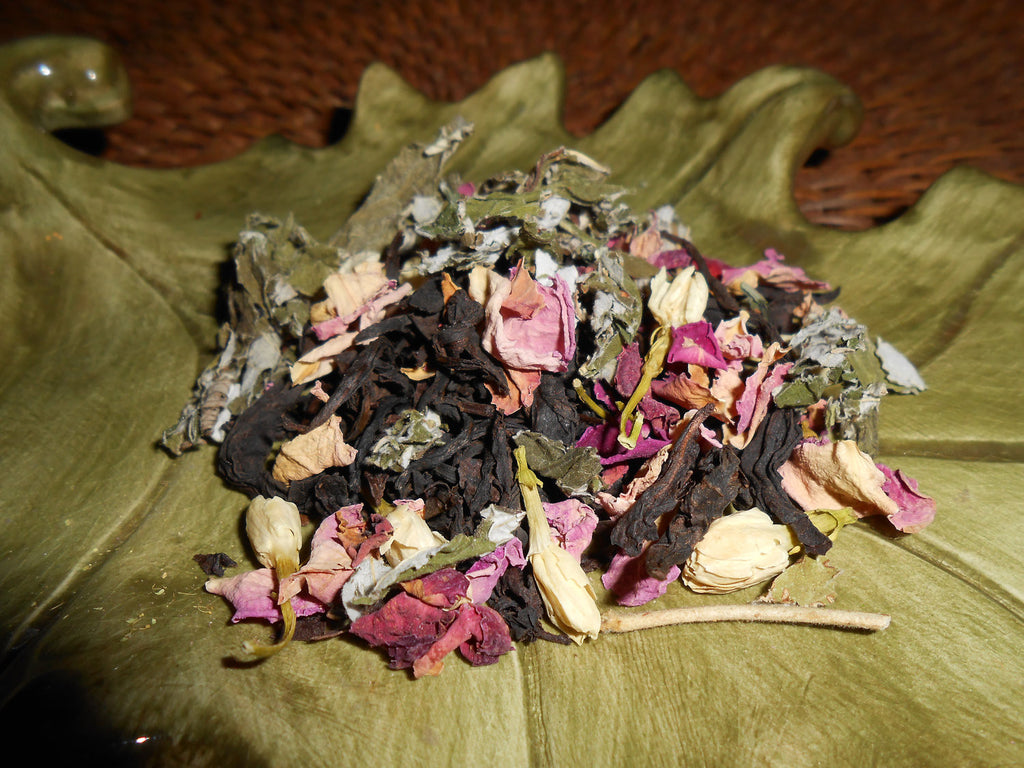 OOLONG REVERIE ™ Artisan Tea Blend, Organic
---
OOLONG REVERIE TEA
- A product of Mortar and Petal by CynCraft
- Organic, Kosher
- Origin: China and Various
- Contains Caffeine
Enjoy this succulent Oolong, fruit/floral tea, especially palatable for those that do not enjoy the sharpness typical of green teas. The addition of rose petals, jasmine flowers, and raspberry leaves make this tea an absolute dream!
Oolong tea is unique because of its partial fermentation, withering, and oxidation, which produces a diverse arrangement of both off-green and black leaves.
This tea is beautiful, tasty, full bodied, healthy and with a smooth floral, fruity aftertaste. Highly recommended to those that enjoy the benefits of green tea but have a hard time with its lingering, semi bitter taste. Sure to appeal to the senses of both the black tea lover and the green tea lover.
-Taste: well-rounded green flavor with a floral and fruit finish
-Aroma: lightly perfumed of freshly cut grass, heady florals, with a hint of berry
-Brewed Color: light yellow
-Instructions: 1-2 teaspoons per 6-8 ounces of water, brewed for 3-4 minutes
-Servings per ounce: 15-25 cups, depending on strength preference
This tea can be steeped twice, for double the value.
Thanks for stopping by. Sipping tea soothes the soul.
---
Share this Product
---
More from this collection