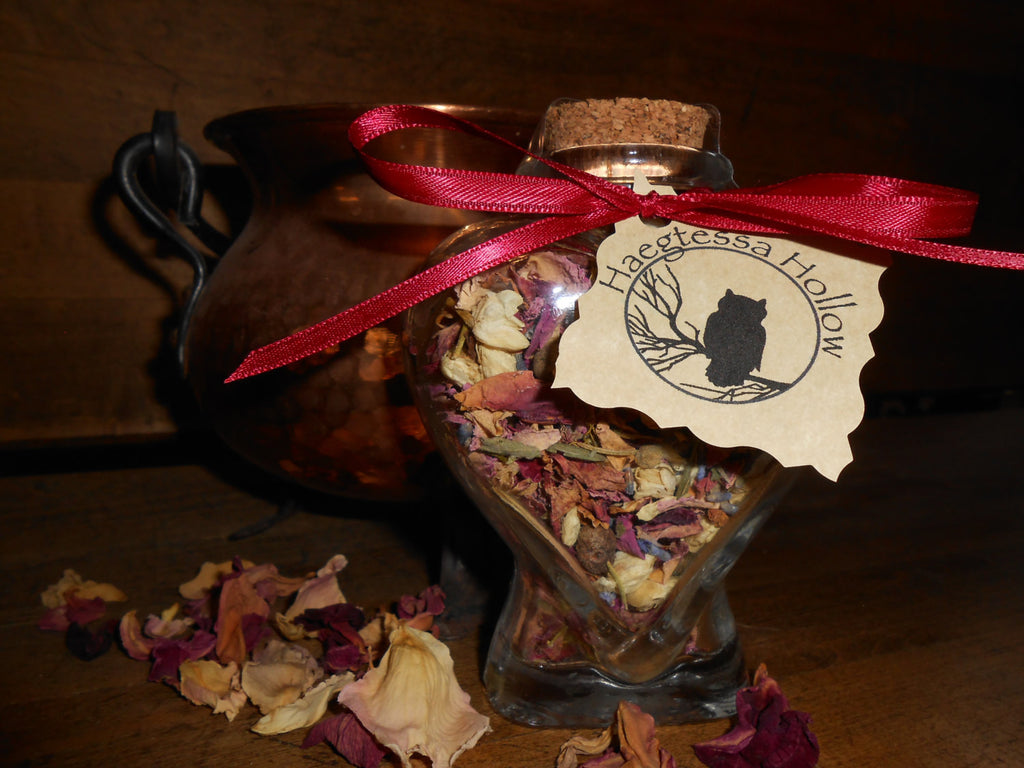 Witch Bottle Spell Jar -- LOVE and PASSION ™
---
WITCH BOTTLE / SPELL JAR
- A product of Haegtessa Hollow by CynCraft
- Uses: For the Altar or Hearth; Invites Love, Passion, Attraction, Romance, and Fidelity.
Witch Bottles have been around for hundreds of years, from at least the 1500s. They were created in a variety of styles and for a variety of reasons.
This witch bottle/spell jar is filled with a plethora of items that have a traditional reputation for influencing and promoting LOVE, PASSION, ATTRACTION, and even LUST. The bottle is heart-shaped and measures approximately 5 x 3.5 x 2 inches. The bottle contains herbs, spices, and various curios (resins, rocks, minerals, incense), all charged with symbolically attracting love and passion.
I make these bottles to order, so if you want me to add any special elements or use any specifics when creating and blessing, please email me.
IDEAS FOR USAGE:
1. Keep as a pretty mantle item.
2. Create a love charm by lighting the included cone incense, adding the name and maybe a hair from the object of your affection (to the jar), and wafting the incense smoke over everything, while saying his/her name repeatedly. This should be performed during a waxing moon.
3. Sprinkle the potpourri around your house (and maybe a bit somewhere on your love's property, in order to entice him/her).
4. Fill the bottle with olive oil, allowing the enchanted potpourri to create an anointing oil that you can dab on your pulse points whenever you will be around him/her.
5. Put some of the mixture in a pouch, and place it under your pillow at night.
6. It also makes a lovely gift.
The choices are limitless!
***Copper Cauldron is NOT included.***
PRECAUTIONS: Not for internal use. Take care with the flames that you create. The incense should be burned in an appropriate container and never left unattended.
This item is sold as a curio, for esoteric purposes only.
THANK YOU, AND MAY YOU LOVE AND BE LOVED!
---
Share this Product
---
More from this collection