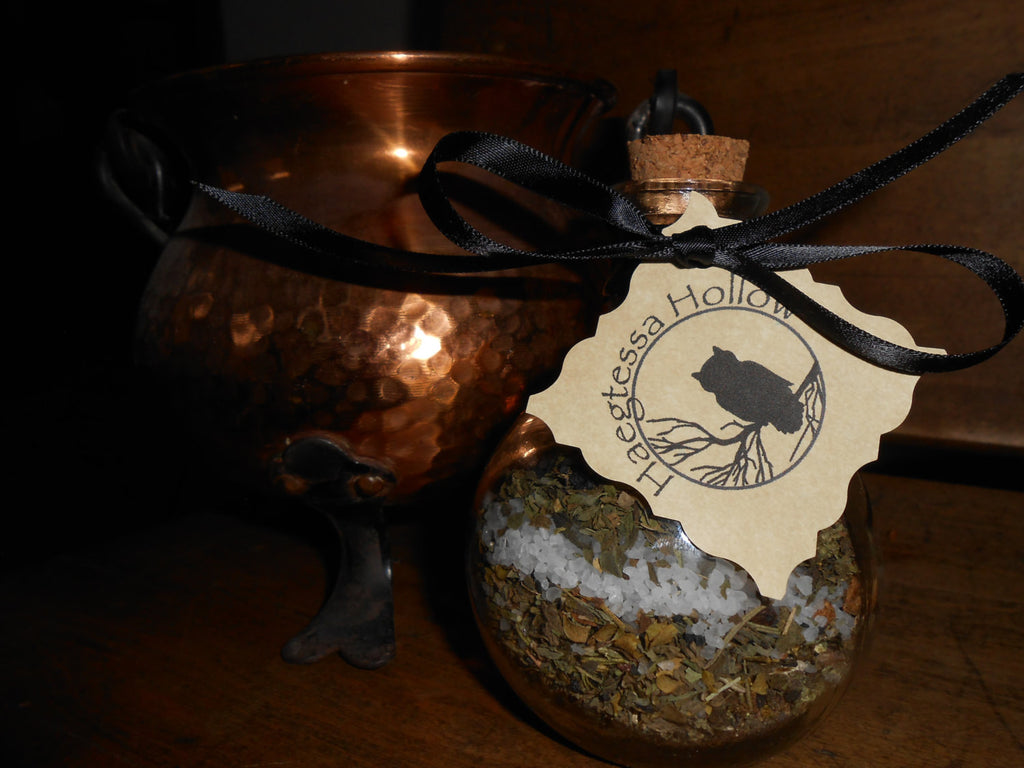 Witch Bottle Spell Jar -- BLOCK, BANISH, BIND ™
---
WITCH BOTTLE / SPELL JAR
- A product of Haegtessa Hollow by CynCraft
- Uses: For the altar or hearth; Strengthens Protection and Reversal in Craft Work and Ritual.
Witch Bottles have been around for hundreds of years, from at least the 1500s. They were created in a variety of styles and for a variety of reasons.
This witch bottle/spell jar is filled with a plethora of items that have a traditional reputation for promoting Triple "B" Protection: To BLOCK, BANISH, and BIND any negative or toxic elements. The bottle is bulbous with a long neck and measures approximately 4.5 x 2.5 x 2.5 inches. The bottle contains herbs, spices, and various curios (resins, rocks, minerals, incense), all charged with symbolically blocking, banishing, and binding.
I make these bottles to order, so if you want me to add any special elements or use any specifics when creating and blessing, please email me.
Great for New/Dark Moon Rituals!
IDEAS FOR USAGE:
1. Keep as an altar item.
2. Perform a ritual by lighting the included cone incense, adding the name of and something that symbolizes what/whom you want to be rid of, and wafting the incense smoke over everything, while sternly stating your block/banish/bind intentions. This should be performed during a waning moon. Keep the bottle somewhere safe. You can "bury" it in a drawer, behind books, or in a corner of the yard.
3. Sprinkle the mixture around your house, especially near door and window thresholds.
4. Fill the bottle with olive oil, allowing the enchanted potpourri to create an anointing oil that you can dab on your pulse points.
5. Put some of the mixture in a pouch, and place it in your pocket, purse, or under your pillow at night.
6. It also makes a lovely gift.
The choices are limitless!
***Copper Cauldron is NOT included.***
PRECAUTIONS: Not for internal use. Take care with the flames that you create. The incense should be burned in an appropriate container and never left unattended.
This item is sold as a curio, for esoteric purposes only.
THANK YOU, AND MAY YOU RID YOURSELF OF ALL NEGATIVITY!
---
Share this Product
---
More from this collection