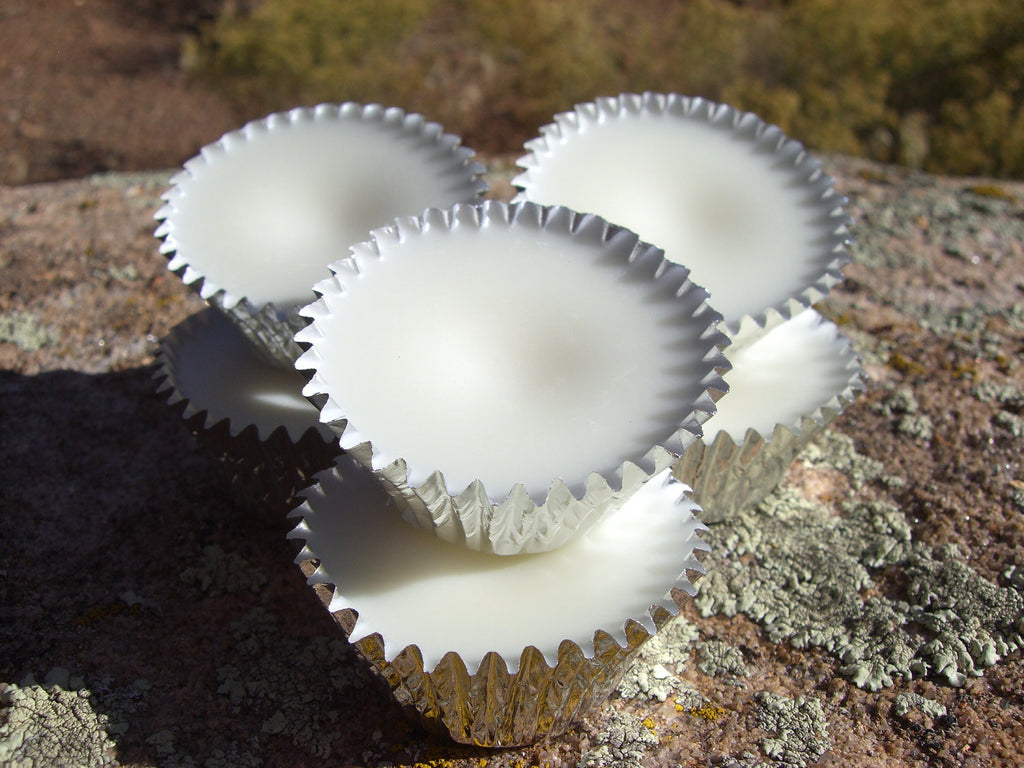 Soy Wax Tart Melts - SWEET SUMMER NATURALS Collection™ - 14 All-Natural Scents - Six Pack
---
Soy Wax Tarts - SWEET SUMMER NATURALS Collection
- A product of Green Nymph by CynCraft
- Created with Care
- To celebrate the sweet scents of summer.
These dye-free tarts come in packs of six, in silver-toned mini muffin cups, enclosed in cellophane and embellished with a bow and tag.
Each tart measures from .5 to .7 ounce, so six will give you at least three (3) total ounces.
These tarts are scented with only Natural Essential Oils. Absolutely no synthetic fragrances are used. This is ideal because the natural oil scents have properties that synthetic fragrance oils lack. Enjoy Nature, naturally!
The Scent Choices:
SUNSHINE - sunny orange and tangerine with just a bit of warm cinnamon
LEMONADE - pure, refreshing lemon. Save your lemonade stand money!
LEMON-MINT - zesty lemon, mellowed by cooling mint
DREAMSICLE - the classic orange and vanilla ice cream treat!
CITRUS SPLASH - a juicy blend of five citrus fruits
MARGARITA - quenching lemon-lime, with a hint of light orange. Hold the salt.
MINT JULEP - smooth, Southern serenity!
STICKY KIDS - a delightful mess of black licorice, vanilla, and orange
GROOVE FEST- an earthy blend of patchouli and sandalwood. 'Tis the festival season!
CAMPING TRIP- a hint of campfire, citronella, and evergreen. Like you've been camping!
DAY HIKE- a mix of woods, from cedar to spruce, with a hint of citronella. The great outdoors!
FAIRY GARDEN- a luscious, magical floral with lavender, ylang ylang, and sweet wood.
FRESH- bright and clean, with an herbal citrus glow
ZESTY ROSE- a sultry rose with a hint of tangerine zing!
NOTE: Essential oils are not as strong-scented in wax as the chemical-laden fragrance oils. The scent is more subtle. Your nose grows accustomed to the scent pretty quickly, and you might think that the scent is gone, but it is still there, doing its natural thing, in the background. If you leave the room or go outside for a few minutes and then walk back in, you'll smell the scent again.
These tart melts are scented perfectly, enough to waft through a room but not overpower it. They melt evenly and cleanly and furnish HOURS of heavenly scent.
INSTRUCTIONS:
-Remove one or two tarts from wrappers. Place in your tart burner. Enjoy!
-Hint #1: When the scent is gone, place your tart burner tray in the freezer for a few minutes, and the old wax should pop right out. Besides, soy wax cleans up with hot, soapy water.
-Hint #2: I have had success with melting the tarts WITHIN their wrappers, leaving me NO cleanup! However, it probably depends on the size/shape of your burn tray, and the scent throw isn't as strong using this method.
Thank you!
***CAUTION: DO NOT LEAVE BURNING CANDLE UNATTENDED!***
---
Share this Product
---
More from this collection