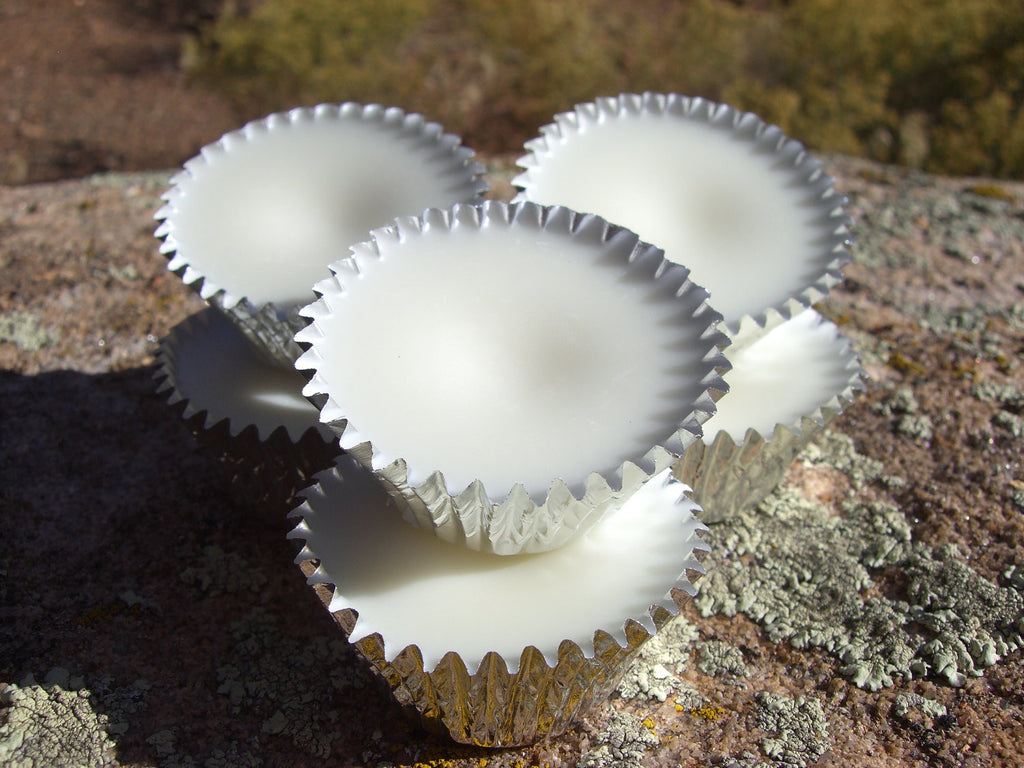 Soy Wax Tart Melts - SWEET SUMMER Collection™ - 12 Yummy Vacation Scents - Pack of SIX
---
Soy Wax Tarts - SWEET SUMMER Collection
- A product of Green Nymph by CynCraft
- Created with Care
- Breathe in a Summer Vacation.
These dye-free tarts come in packs of six, in silver-toned mini muffin cups, enclosed in cellophane and embellished with a bow and tag.
Each tart measures from .5 to .7 ounce, so six will give you at least three (3) total ounces.
These tarts are scented with Natural Essential Oils and Quality Fragrance Oils.
The Scent Choices:
CUCUMELON - fresh cucumber and sweet melon
APPLE-PEAR - crisp and juicy
STRAWBERRY CREAM - fresh strawberries with a hint of vanilla
STRAWBERRY LEMONADE - sweet and tart
SUNBURN - a red/hot cherry/cinnamon pairing
SUNTAN - tropical orange with smooth pecan praline
SMOOTHIE - a fruity juicy blend (strawberry, blackberry, banana, citrus)
STRAWBERRY-BANANA - smooth and sweet
BANANA CREAM PIE - yummy without going to your tummy!
ICED COFFEE - mellow and sweet coffee caramel
BIRTHDAY CAKE - sweet and moist
FOURTH OF JULY - reminiscent of red, white, and blue rocket pops or snowcones, this balm bursts with cherry, lemon ice, and a hint of blue coconut!
These tart melts are scented perfectly, enough to waft through a room but not overpower it. They melt evenly and cleanly and furnish hours of heavenly scent.
Instructions:
Remove one or two tarts from wrappers. Place in your tart burner. Enjoy!
Hint #1: When the scent is gone, place your tart burner tray in the freezer for a few minutes, and the old wax should pop right out. Besides, soy wax cleans up nicely with warm, soapy water.
Hint #2: I have had success with melting the tarts WITHIN their wrappers, leaving me NO cleanup! However, it probably depends on the size/shape of your burn tray, and the scent throw isn't as strong doing it this way.
Thank you!
***CAUTION: DO NOT LEAVE BURNING CANDLE UNATTENDED!***
---
Share this Product
---
More from this collection