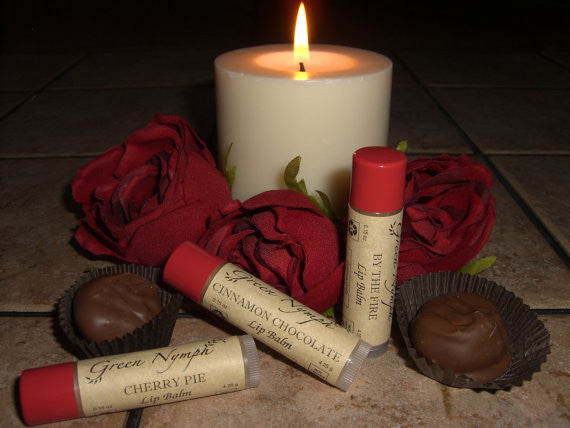 Lip Balm - LOVERLY VALENTINE Collection ™ - 14 Lovely, Kissable Scents
---
Loverly Valentine Lip Balm Collection
- A product of Green Nymph by CynCraft
- Created with Care
HELLOOO ROMANTICS!!! Everyone loves having kissable lips, especially during the season of love...
So, without further ado, I present the Green Nymph LOVERLY VALENTINE Lip Balm Collection, in 14 sweet, juicy, spicy, and delectable scents:
KISS ME-red roses and juicy oranges
CHOCOLATE ROSES-rich chocolate and sweet roses
CHOCOLATE CHERRIES-just like the cherry cordial chocolates
CHERRY AMARETTO-decadent cherry almond liqueur
CHERRY PIE-wild cherries and vanilla
CINNAMON ROSE-spicy, tingly rose lips
CINNAMON CHOCOLATE-rich, spicy chocolate
ROSE-GERANIUM-lovely floral bouquet
COOL ROSE-minty rose
SPANISH ROSE-cinnamon, vanilla, rose
BY THE FIRE-savory, warming spice
WINTER KISS-peppermint and spearmint
SUN-KISSED-chocolate orange
LOVERLY-a romantic blend of roses, lavender, and vanilla
The texture of these balms is light, creamy, and lip-loving.
I make this balm fresh to order, so let me know if you have any ALLERGIES, special needs, or requests!
This balm is handcrafted with natural and/or organic waxes (beeswax, candelilla), butters (shea, cocoa, mango, kokum), oils (jojoba, apricot, avocado, coconut, castor, sweet almond, grapeseed, hemp, sunflower, pumpkin seed, walnut, safflower, vitamin E), cosmetic-grade fragrance oils, and quality essential oils.
*NOTE: Lip Balm does melt, so store your balm accordingly. Should you find your balm in a less-than-solid state, the key is to cool it down fast, in the fridge. When lip balm cools slowly on the counter, it can result in a grainy texture. If your lip balm becomes grainy, just remelt it completely and stick it in the fridge for an hour.
All balms are PARABEN-FREE, with NO artificial colors, sweeteners, or preservatives!
If you want a VEGAN formula, let me know!
Specific ingredients to each balm will be listed on the tube label.
The .15 oz tubes are clear with various-colored caps (mostly red). They will arrive to you sealed, craftily labeled, and wrapped in tissue paper. Simply twist the top, and leave the bottom part of the shrink wrap in place, protecting and preserving the label.
SECRET: This balm can also be used on other spots besides your lips. I like to dab it on crow's feet, laugh lines, and even rub it onto my elbows. It's a great little BODY balm! Watch out, though; you might smell sweet enough to eat!
Happy KISSING!!!
FYI: I also carry lotion and perfume oil in these scents.
---
Share this Product
---
More from this collection