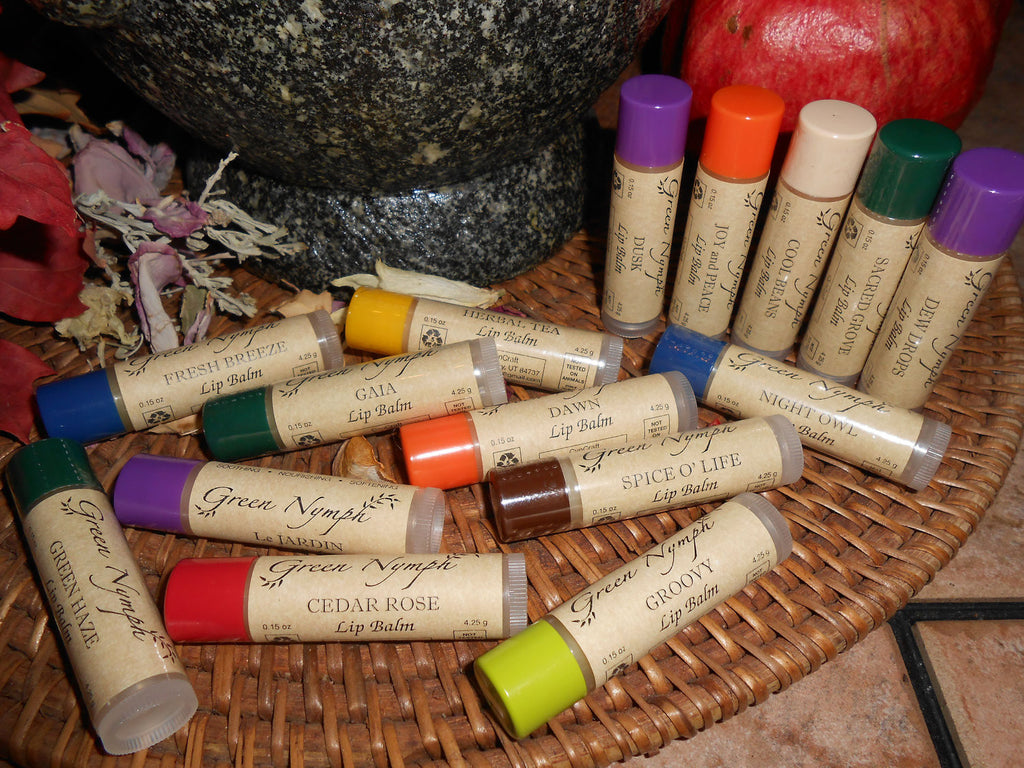 Lip Balm - EARTH MOTHER Collection ™ - 15 Natural, Kissable, Deliciously Fresh Recipes
---
EARTH MOTHER Lip Balm Collection
- A product of Green Nymph by CynCraft
- Created with Care
All the seasons bring bountiful gifts--herb and flower, fruit, spice, and evergreen. These gifts are honored in these premium, natural balms, made with pure waxes, butters, carrier oils, Sun's Eye Pure Oils, and quality essential oils.
Celebrate Nature with the Green Nymph EARTH MOTHER Lip Balm Collection in 15 lush scents:
GAIA - earthy sandalwood, mellow vanilla, soothing lavender, and heady lilac
DAWN - wake up with rosemary and orange
DUSK - spicy and sultry with vanilla, cinnamon, and rose
NIGHT OWL - dark woods, with vanilla and spice
LE JARDIN - sweetly floral, with jasmine, honeysuckle, and ylang ylang
FRESH BREEZE - a variety of cool and sweet mints
SACRED GROVE - pine, spruce, and cedar, misted with vanilla
GROOVY - a peaceful blend of patchouli, hemp, sandalwood, and vanilla
COOL BEANS - cool mint, paired with vanilla bean
DEW DROPS - Fresh lavender, with vanilla and rosebuds
SPICE O' LIFE - a warm blend of cinnamon, cloves, and allspice
HERBAL TEA - a bright blend of lemongrass, clary sage, and mint
GREEN HAZE - an earthy blend of patchouli and anise (the licorice flavor of "green fairy" fame)
JOY and PEACE - warm, fresh, and happy orange and rosemary join with lovely lavender.
CEDAR ROSE- an earthy floral combination of cedar wood, rose, and rose-geranium. My new favorite!
The texture of these balms is light, creamy, and lip-loving.
I make this balm fresh to order, so let me know if you have any ALLERGIES, special needs, or requests!
This balm is handcrafted with natural and/or organic waxes (beeswax, candelilla), butters (shea, cocoa, mango, kokum), oils (jojoba, apricot, avocado, coconut, castor, sweet almond, grapeseed, hemp, sunflower, pumpkin seed, walnut, safflower, vitamin E), select Sun's Eye pure oils, and quality essential oils.
The only Sun's Eye oils used in this collection are lilac, jasmine, and honeysuckle. All the rest are premium essential oils.
*NOTE: Lip Balm does melt, so store your balm accordingly. Should you find your balm in a less-than-solid state, the key is to cool it down fast, in the fridge. When lip balm cools slowly on the counter, it can result in a grainy texture. If your lip balm becomes grainy, just remelt it completely and stick it in the fridge for an hour.
All balms are PARABEN-FREE, with NO artificial colors, sweeteners, or preservatives!
If you want a VEGAN formula, let me know!
Specific ingredients to each balm will be listed on the tube label.
The .15 oz tubes are clear with colored caps. They will arrive to you sealed, craftily labeled, and wrapped in tissue paper. Simply twist the top, and leave the bottom part of the shrink wrap in place, protecting and preserving the label.
SECRET: This balm can also be used on other spots besides your lips. I like to dab it on crow's feet, laugh lines, and even rub it onto my elbows. It's a great little BODY balm! Watch out, though; you might smell sweet enough to eat!
Happy KISSING!!!
FYI: I also carry lotion, perfume oil, and soy wax tarts in these scents.
---
Share this Product
---
More from this collection