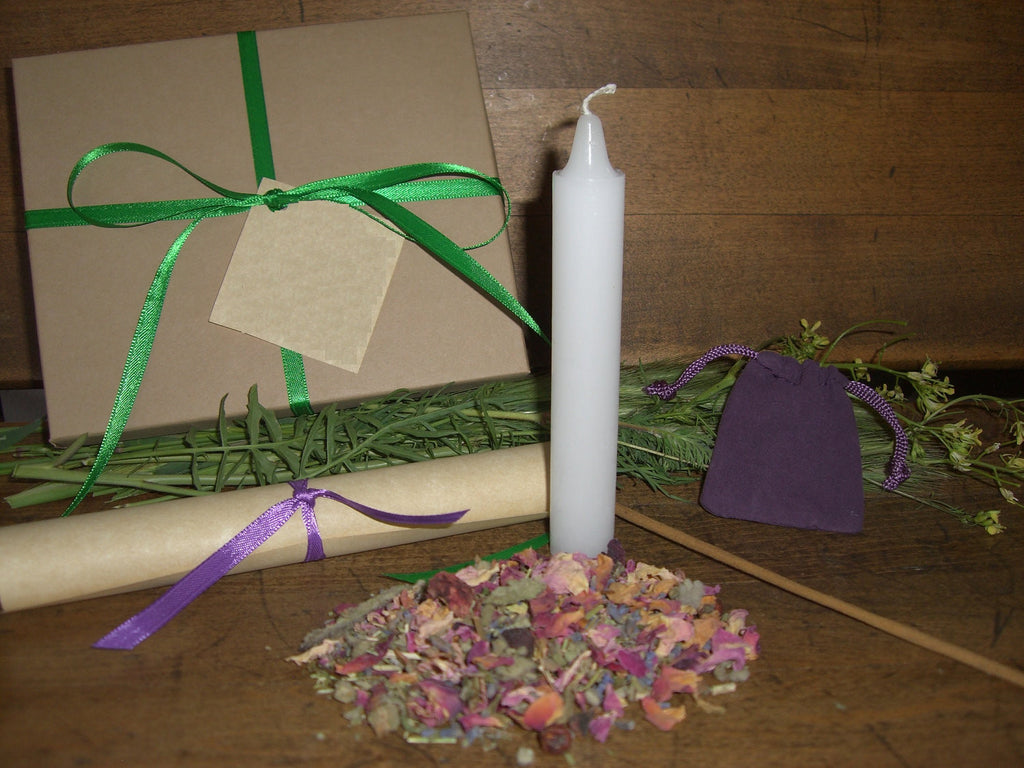 BELTANE - Nature's Wheel™ DIY Ritual Kit - Bealtaine, May Day, Walpurgis
---
Nature's Wheel™ BELTANE RITUAL
- A product of Haegtessa Hollow by CynCraft
- Simple, yet Powerful
- Uses: For Beltane Rites, to Celebrate Flowers, Frolicking, and Faeries
This spell kit includes everything you need to symbolically nourish your mind, body, spirit, while coming alive with the Earth's buzzing vibrations. This ritual kit can be used in your increase workings--focusing intent on love, passion, attraction, abundance, joy, success, money, etc. Whether you celebrate in wild revelry or quiet solitude, this spell kit will add a fitting facet to your magical evening!
Included in this kit:
-Virility, Fertility, Growth, and Abundance-influencing herbs and spices potpourri
-a rune-inscribed candle
-Instruction/Information Spell Scroll
-stick incense
-velvet pouch
-blank parchment paper
Beltane and Walpurgis is usually celebrated on May 1 (November 1 in the Southern Hemisphere), often starting the evening before. This celebration marks the approximate halfway point between the Spring Equinox and the Summer Solstice.
Beltane derives from the Gaelic word for the month of May and its fertility festivals, often involving bonfires. Beltane is one of the cross-quarter days observed in Celtic mythology. It is a FIRE festival. It celebrates the Earth's fertility and the Sun's growing strength, and it often marks the beginning of the summer, pastoral season. May wine and floral boughs run rampant!
Walpurgis, or Walpurgis Night, is celebrated in Central and Northern Europe. It is a traditional Spring Festival, originally named after an early English missionary, Saint Walburga. Walpurgis is a time of fires and dancing, often around a may pole, a symbol or virility and fertility.
Whatever you call it, this festival celebrates the Earth's blossoming abundance and promise of fruit. It is a fertile, passionate time, and it falls "in between worlds," like the night of Samhain. It is said that fairy folk are very active during this time.
This is a time to celebrate growth and future promise, a time to work on increasing the fertility of your mind, body, or spirit. It is a time to renew vows, to bask in love, lust, or passion. The world is alive, and so are you! Enjoy it, and grab at adventure! Make your dreams a reality!
Great for any ritual that inspires fertility, growth and abundance.
Everything is fittingly blessed and anointed.
I make these kits to order, so if you want me to add any special elements or use any specifics when creating and blessing, please email me.
Everything is enclosed in a reusable craft box and tied with satin ribbon. It makes a lovely gift for yourself or someone else!
*NOTE: Depending on supplies, the ribbon color and the herbal blend might differ from the picture, but rest assured, the colors and blend included in this kit will be associated with Beltane and have an historical reputation for inspiring Life and Passion--a powerful, specific blend, charged with the purpose of inviting Fertility and Abundance.
*All herbs, spices, and flowers are grown organically or respectfully gathered from the wild. All of the components of this kit are biodegradable, reusable, compostable, or recyclable. The box itself is made from 100% recycled material. When you have completed this ritual, please reuse or recycle whatever remains. Thank you!
*C A U T I O N: Take care with the flames that you create. The candle and incense should be burned in appropriate containers and never left unattended.
*This item is sold as a curio, for esoteric purposes only.
Thank you, and may you have a bountiful and blessed Beltane!
---
Share this Product
---
More from this collection