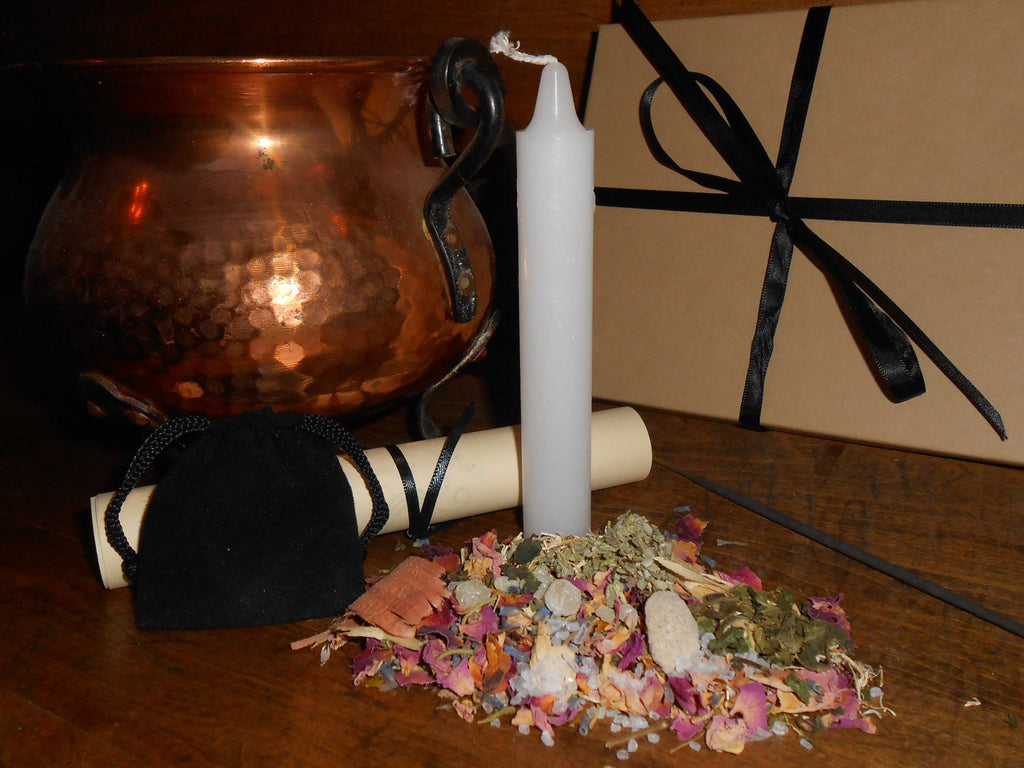 BANISH NEGATIVITY - What You Will™ DIY Ritual Kit
---
What You Will™ BANISH NEGATIVITY Ritual Kit
- A product of Haegtessa Hollow by CynCraft
- Simple, yet Powerful
- Uses: To Ward, Shun, and Expel Negativity and Bad Vibes
This spell kit includes everything you need to symbolically build a wall of positive energy and block negative influences. Invite the light in order to banish the shadows. Whether the negativity is from without or within, this ritual kit can be a great tool to strengthen your banish and block workings.
Included in this kit:
-Positivity and Strength-influencing herbs, spices, and resins potpourri
-a rune-inscribed candle
-Instruction/Information Spell Scroll
-incense (stick, cone, OR pellet, depending on supply)
-velvet pouch
-blank parchment paper
***Copper Cauldron is NOT included.***
Great for an Equinox/Solstice, Sabbat, or New Moon ritual!
Everything is fittingly blessed, charged, and anointed.
I make these kits to order, so if you want me to add any special elements or use any specifics when creating and blessing, please email me.
Everything is enclosed in a reusable craft box and tied with satin ribbon. It makes a lovely gift for yourself or someone else!
*NOTE: The herbal blend that you see in the picture is not the exact blend for this kit. The blend included in this kit will contain herbs, spices, and resins that have an historical reputation for being highly POSITIVE in nature--a powerful, specific blend, charged with the purpose of BANISHING negative energy and INVITING positive anergy and strength.
*All herbs, spices, and flowers are grown organically or respectfully gathered from the wild. All of the components of this kit are biodegradable, reusable, compostable, or recyclable. The box itself is made from 100% recycled material. When you have completed this ritual, please reuse or recycle whatever remains. Thank you!
*PRECAUTIONS: Take care with the flames that you create. The candle and incense should be burned in appropriate containers and never left unattended.
*This item is sold as a curio, for esoteric purposes only.
Thank you, and may you be blessed with positive power!
---
Share this Product
---
More from this collection