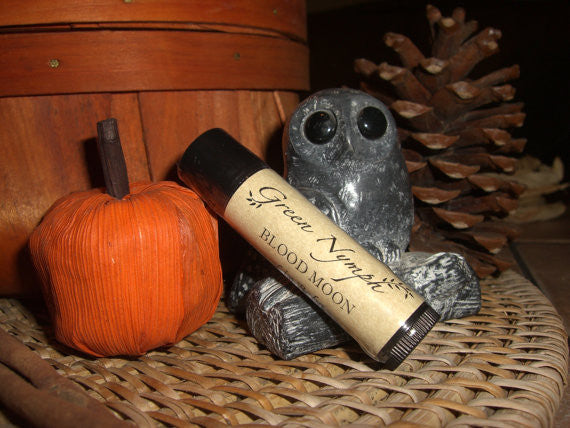 Lip Balm - HALLOWEEN Collection ™ - 13 Hauntingly Delicious Recipes
---
HALLOWEEN Lip Balm Collection
- A product of Green Nymph by CynCraft
- Created with Care
HAPPY HALLOWEEN, All Hallows' Eve, Samhain, Dia de los Muertos, Feast of Pomona, Calan Gaeaf, and Allantide!!!
Whatever you call it, this season is a fun time to get spooky, mystical, and maybe a bit campy!
Choose from 13 haunting, decadent scents:
VAMP (dark chocolate, cherry, almond) Victorian sticky decadence.
WOLFEN (Cinnamon, Allspice, Pine, Maple, Walnut) Earthy, Woodsy, Spicy.
BRAINS! (Caramel Cake) For all you zombie-lovers out there!
CANDY SKULL (Vanilla, Cinnamon, Sugar) Horchata scent. Great for Day of the Dead!
WITCH BREW (Ginger, Mint, Vanilla, Spice) Bubble, Bubble, Toil and Trouble…
SUCCUBUS (Clove, Orange, Rose) Alluring, Sweet, and Spicy.
PUMPKINHEAD (Pumpkin Spice, with a dash of cream) Tasty!
GREEN FAIRY (Anise, Licorice) Got Wings?
SAMHAIN (Caramel Apple Spice) Sweet, spicy, crunchy scent, like leaves underfoot.
BLACK CAT (Earthy Spice, with a whiff of Licorice) Dark, slinky, and lurking…
RAVEN (Dark Fruits, Vanilla, Spice, with a tap of black coffee) Rough lips, Nevermore!
CANDY CORN (Honey, Caramel, Sugar) The Halloween candy of childhood!
BLOOD MOON (Cranberry, Maple, Walnut, Spice, with a breath of Cool Mint) The cold, crisp October moon, shining through leafless trees.
The texture of these balms is light, creamy, and lip-loving.
I make this balm fresh to order, so let me know if you have any ALLERGIES, special needs, or requests!
This balm is handcrafted with natural and/or organic waxes (beeswax, candelilla), butters (shea, cocoa, mango), nourishing oils, cosmetic-grade fragrance oils, and quality essential oils.
*NOTE: Lip Balm does melt, so store your balm accordingly. Should you find your balm in a less-than-solid state, the key is to cool it down fast, in the fridge. When lip balm cools slowly on the counter, it can result in a grainy texture. If your lip balm becomes grainy, just remelt it completely and stick it in the fridge for an hour.
All balms are PARABEN-FREE, with NO artificial colors, sweeteners, or preservatives!
If you want a VEGAN formula, let me know!
Specific ingredients to each balm will be listed on the tube label.
The .15 oz tubes are clear with colored caps. They will arrive to you sealed, craftily labeled, and wrapped in tissue paper. Simply twist the top, and leave the bottom part of the shrink wrap in place, protecting and preserving the label.
SECRET: This balm can also be used on other spots besides your lips. I like to dab it on crow's feet, laugh lines, and even rub it onto my elbows. It's a great little BODY balm! Watch out, though; you might smell sweet enough to eat!
No tricks, all treats!
FYI: I also carry lotion and perfume oil in these scents.
---
Share this Product
---
More from this collection