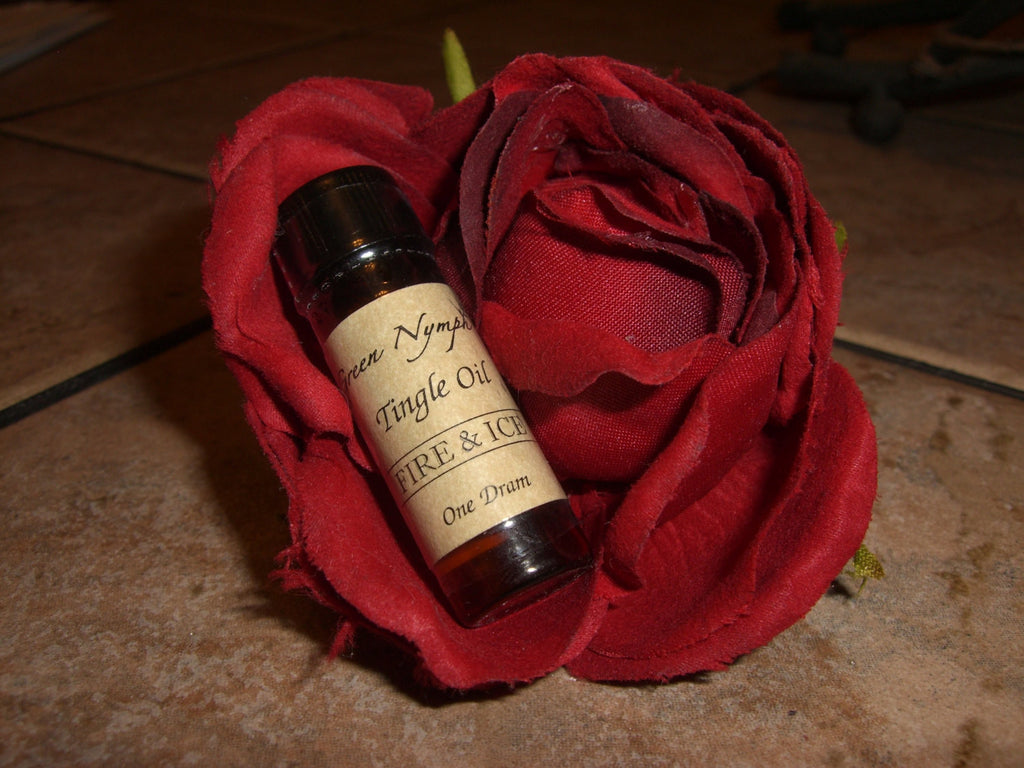 Fire & Ice TINGLE OIL ™ - Warming and Cooling Essential Oil Blend - Just a Little Dab Will Do
---
FIRE & ICE TINGLE OIL
- A product of Green Nymph by CynCraft
- Created with Care
Want some Ooh La La? I am pleased to present my unique and natural FIRE & ICE TINGLE OIL (Or TINGOIL, as I like to call it), which will arrive in a one-dram apothecary bottle.
This oil is edible and for both women and men, but be aware: Just a little dab will do!
Fire & Ice Tingle Oil is All-Natural, made with the carrier oils of coconut and jojoba, and the pure essential oils of orange, cinnamon, rosemary, peppermint, rose-geranium, and lemongrass, with Vitamin E oil added.
The sensation starts with a warm tingle and then settles into a cool tingle, and it even tastes good!
I make this oil fresh to order, so let me know if you have any ALLERGIES, special needs, or requests!
If it is TOO STRONG, dilute with skin-safe oil, and if you want to remove it from your skin, wash with warm, soapy water.
I also have blends that are WARM-ONLY (Fire--Cinnamon, Orange, Rose-Geranium) and COOL-ONLY (Ice--Peppermint, Rosemary, Orange).
Specific ingredients will be listed on the label.
VEGAN and PARABEN-FREE, with NO artificial colors or preservatives!
The amber glass apothecary bottle is reusable and recyclable. It will arrive to you craftily labeled and wrapped. It is a wonderful gift for yourself or someone else or each other.
GREAT FOR VALENTINE'S, ANNIVERSARIES, HONEYMOONS, DATE NIGHT, OR EVERY DAY!
***PLEASE NOTE: People have different skin sensitivities. Test a tiny amount and wait to make sure there is no allergic reaction. REMEMBER: Start small.
THIS ITEM IS FOR EXTERNAL USE ONLY.
***THIS OIL IS MADE WITH PURE AND NATURAL INGREDIENTS. DUE TO THE FACT THAT WE HAVE NO KNOWLEDGE OF PEOPLE'S PERSONAL INFORMATION SUCH AS ALLERGIES OR SKIN SENSITIVITIES, WE ARE NOT RESPONSIBLE FOR ANY ALLERGIC OR OTHER ADVERSE REACTIONS DUE TO THE USE/MISUSE OF THIS PRODUCT.
That being said, do enjoy yourself!
---
Share this Product
---
More from this collection